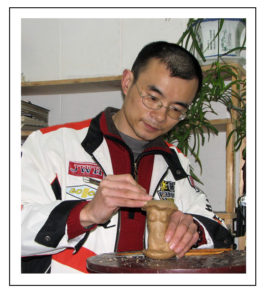 Mike Lin was born in Zhejiang, China in 1973 and is among a new wave of Chinese sculptors coming to international prominence.
He started studying sculpture in 1989 and attended the Yueqing Special Arts Workshop where he had the fortune to be mentored by the famous Chinese sculptor, Gao Gongbo. He has been a full time sculptor since 1991. While continuing to create his body of work Mike has also from 2003 created a number of sculptures for UK and Italian companies.
Although Mike's preferred mediums are clay and wax, his initial works started with wood in a more traditional Chinese style. However his passion has always been founded in the history, culture and style of classical European art and he soon found himself drawn to working on his own figurative sculptures. It is within the life, movement and beauty of the human form where he finds his continued inspiration.
Combining a thorough understanding of anatomy and an eye for fine detail, the basis of his work is contemporary in style but continues finds its heart in the classical oeuvre. A desire to combine bold and vigorous lines while maintaining a care for precise details underlines all his work.
Mike is married and has a one daughter.
Please click on an image below to see his work in more detail and find out more information